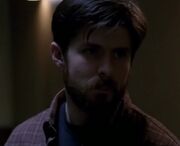 Daniel Ramos is a recurring character in the first season of Boomtown. He is played by guest star Rick Gomez. He is a Robbery Homicide Detective working from the same station as fellow detectives (and starring characters) Joel Stevens and Bobby "Fearless" Smith. His partner, Detective Ashford, is on maternity leave so he is assigned as a secondary detective to several cases. He assists Joel and Fearless in their investigation into home invasion murders. He assists in the investigation of the abduction of Officer Sam Norvell and is part of the team that arrives too late to save him from his captors. When it is proven that Norvell was betrayed by someone inside of his own station Ramos co-operates with the Internal Affairs Investigation. He participates in a ruse set up by Joel to entrap the responsible officer, Vincent Manzani. He uses his ability to mimic voices to convince Manzani that he is organized crime boss John Donatoni and implicate himself. Manzani falls for the ploy but then takes Ramos hostage when he realizes what has happened. Manzani shoots him in the abdomen, wounding him. Manzani is killed by Officer Ray Hechler while trying to escape the station.
Ad blocker interference detected!
Wikia is a free-to-use site that makes money from advertising. We have a modified experience for viewers using ad blockers

Wikia is not accessible if you've made further modifications. Remove the custom ad blocker rule(s) and the page will load as expected.