Erich Anderson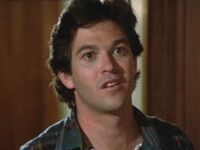 Erich Anderson is an American actor. He guest stars as District Attorney Ben Fischer in the first season and second season of Boomtown. He has appeared in the films Friday the 13th: The Final Chapter (1984), Bat*21 (1988), The Glass Shield (1994), Nightwatch (1997), and Unfaithful (2002). He has also had recurring roles in the series thirtysomething, NYPD Blue, Felicity, and Close to Home .
Biography
Edit
He is best known for his first film role in the 1984 horror film Friday the 13th: The Final Chapter as Rob Dier. He also starred in the 1988 film Bat*21 and in the 2002 drama film Unfaithful.
Anderson's television appearances have included the series Second Chances as Bruce Christianson, thirtysomething as Billy Sidel, and Felicity as Felicity's father. He also guest starred on Melrose Place as Courtney Thorne-Smith's psychiatrist.
Season 1 credits
"Pilot"
"Possession"
"The Squeeze"
"Reelin' in the Years"
"All Hallow's Eve"
"The Freak"
"Insured by Smith & Wesson"
"Crash"
"The David McNorris Show"
"Coyote"
"Monster's Brawl"
"Sinaloa Cowboys"
"Home Invasion"
"Execution"
"Storm Watch"
"Fearless"
"Blackout"
"Lost Child"
Season 2 credits
"The Love of Money"
"Inadmissible"
"Wannabe"
"Haystack"
"The Hole-in-the-Wall Gang"
"The Big Picture"
References
Edit
External links
Edit
Ad blocker interference detected!
Wikia is a free-to-use site that makes money from advertising. We have a modified experience for viewers using ad blockers

Wikia is not accessible if you've made further modifications. Remove the custom ad blocker rule(s) and the page will load as expected.