Kim Murphy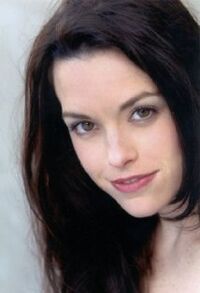 Birthplace
Olympia, Washington, USA
Birthdate
February 8, 1974
Kim Murphy, born February 8, 1974 in Olympia, Washington, USA, is an actress. She guest stars as Susan in the first season of Boomtown. She has appeared in the films Houseguest (1995), Campfire Tales (1997), City of Angels (1998), and Burning Annie (2003). She has also had recurring roles in the series Cybill, Party of Five, Level 9, and 24.
Biography
Edit
Early life
Edit
Born in Olympia, Washington, Murphy attended Tumwater High School in Tumwater, Washington, where she studied and performed dance, gymnastics and contortion. She graduated in class of '92.
Her first big role was that of the teenage daughter in the film Houseguest, starring Phil Hartman and Sinbad.
Murphy then appeared in many television series including her recurring role on Cybill, Party of Five (playing a young girl contemplating having an abortion) and Snoops.
In 1997, Murphy starred in play Miracles at the Old Globe Theater in San Diego, that garned her awards as well as good reviews. She played Pizza Hut Action Girl in series of Star Wars commercials in 1999.
Her movie credits includes: horror Campfire Tales along with Alex McKenna, City of Angels with Meg Ryan and Nicolas Cage, The In Crowd and independent Burning Annie, that garnered her a SMMASH Film Festival nomination for Best Supporting Actress.
Two of her best known roles came while working on television. She played series regular Margaret 'Sosh' Perkins, a nerdy yet sexy computer hacker on the sci-fi crime drama Level 9. She also played the first Bridget on 24.
Murphy recently appeared in TV series Cold Case and Brothers & Sisters.
Season 1 credits
"Pilot"
"Possession"
"The Squeeze"
"Reelin' in the Years"
"All Hallow's Eve"
"The Freak"
"Insured by Smith & Wesson"
"Crash"
"The David McNorris Show"
"Coyote"
"Monster's Brawl"
"Sinaloa Cowboys"
"Home Invasion"
"Execution"
"Storm Watch"
"Fearless"
"Blackout"
"Lost Child"
References
Edit
External links
Edit
Ad blocker interference detected!
Wikia is a free-to-use site that makes money from advertising. We have a modified experience for viewers using ad blockers

Wikia is not accessible if you've made further modifications. Remove the custom ad blocker rule(s) and the page will load as expected.