Megan Ward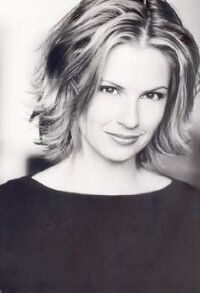 Birthplace
Los Angeles, California, USA
Birthdate
September 24, 1969
Megan Ward, born September 24, 1969 in Los Angeles, California, USA, is an actress. She guest stars as Kelly Stevens in the first and second seasons of Boomtown. She has also starred in General Hospital. She had a recurring role in Sports Night as Pixley Robinson in 2000. She appeared in the films California Man (1992), PCU (1994), and Joe's Apartment (1996). She has also appeared in Melrose Place, Party of Five, Dark Skies, and Sleeper Cell.
Biography
Edit
Early life
Edit
Ward, born in Los Angeles, California, was the youngest of four siblings, and her parents were both professional actors and acting coaches. When Ward was four years old, the family moved to Honolulu, Hawaii. At the age of nine, she began doing commercials for local department stores. In her early teens, she went to Japan for modeling jobs and stayed for several years. Having previously learned to speak the language from her schooling in Hawaii, she landed a job hosting a Japanese television show, "Science Q," a science TV program broadcast in NHK from 1988 to February 1989.
After graduating from Kaiser High School, Ward moved to Los Angeles to pursue an acting career, and secured roles in science-fiction and comedy movies, including California Man (1992), the Tom Stern/Alex Winter horror/comedy Freaked (1994), PCU (1994), and Joe's Apartment (1996)
In the mid-1990s, Ward had a recurring role on the show Party of Five. Following the death of her Party of Five character, Ward took the lead role in the Cold War UFO thriller Dark Skies. After the cancellation of Dark Skies, she appeared in several direct-to-video films such as Tick Tock and Mirror Man. She had roles in the TV series Summerland, Sports Night, and Kevin Hill.
She joined the cast of Boomtown as a recurring guest star for the first season playing Kelly Stevens, the wife of main character Joel Stevens. She appeared in six episodes of the first season from fall 2002 to spring 2003. She reprised the role in the second season in fall 2003. She appeared in two further episodes before the show's cancellation while the second season was still in production.
She debuted as Kate Howard on General Hospital on May 4, 2007. Ward was taken off contract in March 2009; however, she has remained on the series as a recurring character. Ward portrayed Michelle in the horror-thriller film The Invited (2010) under the direction of Ryan McKinney.
Personal Life
Edit
References
Edit
External links
Edit