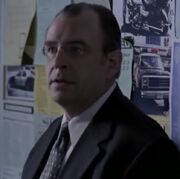 Richard Trumper is a recurring character in the first season of Boomtown. He is played by guest star David Brisbin. He is an Internal Affairs Detective. He leads an investigation into the corruption in the station that the series centers on, working closely with Detective Joel Stevens. He then launches an investigation into Stevens, but is unable to build a case against him.
Ad blocker interference detected!
Wikia is a free-to-use site that makes money from advertising. We have a modified experience for viewers using ad blockers

Wikia is not accessible if you've made further modifications. Remove the custom ad blocker rule(s) and the page will load as expected.