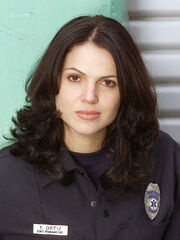 Teresa Ortiz (played by Lana Parrilla) is a paramedic who has spent most of her life caring for the sick. Her mother's long battle with cancer began when Teresa was eight years old, and Teresa promised to spend the rest of her life doing all she could to save lives. This is shown by her determination to give medical aid to a man who hijacked her ambulance and held her hostage. However, while nursing a terminally ill man, Teresa revealed she helped to euthanase her dying mother.
teresa1
Teresa and her partner Randy are frequently on the scene of cases involving Joel Stevens, "Fearless" Bobby Smith, Tom Turcotte and Ray Hechler, and she has a friendly relationshp with them. Teresa and Randy also tended to Joel's wife Kelly after her suicide attempt. Teresa develops romantic feelings for Joel over the course of the series.
Teresa later joins the police academy but her pledge to save lives is threatened when she is forced to shoot and kill a hostage taker at a shopping mall.
Ad blocker interference detected!
Wikia is a free-to-use site that makes money from advertising. We have a modified experience for viewers using ad blockers

Wikia is not accessible if you've made further modifications. Remove the custom ad blocker rule(s) and the page will load as expected.